Power Distribution Automation is a mechanism where one can monitor several parameters of Electrical Distribution System by being in a single location and can take the corrective actions to achieve various objectives. It can effectively manage the Power Distribution with minimal transmission losses.
Advantages of Power Distribution Automation

Reduction in Line loss

Improves Power Quality

Reduction in Energy cost

Optimal usage of Energy

Improve reliability & Compatibility
Power Distribution Automation consists of two main components
Master Control Center or MCC

Remote Terminal Units

Connectivity between MCC & the Remotes through various communication technologies like VSAT, UHF, Fiber Optic Cable, usage of Data Network of incumbent telecom services providers etc.
We at Envision provides the below-mentioned services
Design, Implementation and Maintenance Services for Communication Network

Envision has immense skill sets in designing the Communication Network consisting of VSAT technology, UHF technology, Fiber Optical Network or to design a network using the incumbent telecom operators' data network like leased lines, MPLS or mobile data network.

Design, Implementation & Maintenance Services for Master

Control

Center

Envision has wide expertise in Designing and Building the MCC's which involves all network components like routers, switches, WAN, LAN, Network Security systems, Video Walls etc. Envision also helps in implementing the SCADA software and

space database or back-up

settings etc.

A Control

Centre

is like a mini Data

Centre

on its own that consists of various IT hardware like Routers, Switches, Firewalls, Large Display Unit, SCADA Control Servers, Data Storage, Protocol Converters, Operator Work Stations, GPS,

and

Printers etc. Envision also extends to

design

, implementation & Maintenance Services.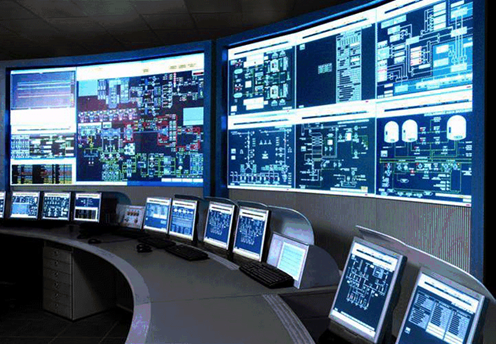 Envision can be a single window for serving a wide range of support services that are required for operation and maintenance of Control Center and Field Equipments.
Maintenance of WAN Communication Links like Leased Lines, MPLS, RF Links, UHF Data communication links, OFC

Maintenance of Control Center for 24 x 7 Operation

RTU Status monitoring

Server Health Monitoring

Backup

Report Generation

Control Centre Engineering Services

Database modifications

Trend Analysis and

on-demand

report generations.

Maintenance of IT Hardware like Routers, Switches, Firewalls, LAN & WAN

Logistics.